Welcome to Blubox Developments
Blubox Developments are a young and innovative home builder, born out of our passion to do things differently. Our aim is to work from the home-owners prospective, to design and build a space that compliments perfectly the needs of those that will ultimately live there.
Using modern materials and technologies coupled with traditional skills we build high quality developments that exceed expectations. Our philosophy is to build beautiful homes that become the hub of your family.
As well as new build developments, we undertake many other aspects of building and construction work. So, whether you have land for development or a new building project to undertake, give us call and arrange an initial no obligation discussion so we can make your plans a reality…
#BUILDITYOURWAY!
Our Services
Bespoke Home Building

Property Upgrade & Restoration

Commercial Improvement

Land Development

House Extension

Design & Build Service
Do You Have A Construction Project We Can Help With?
Core Values That Count!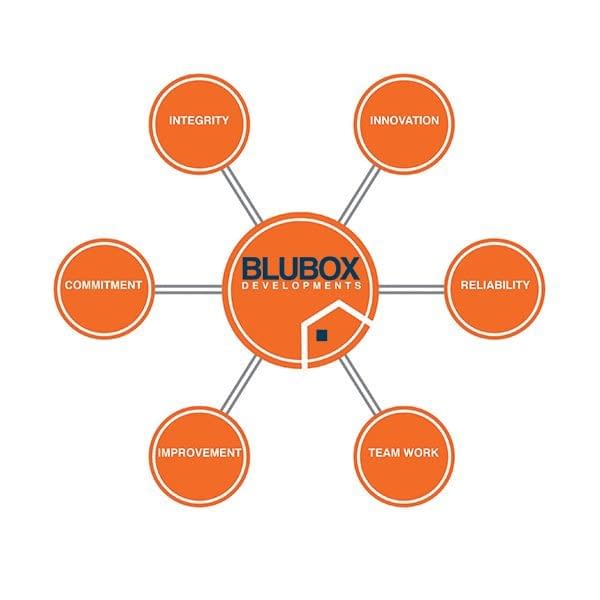 What Our Customers Say
"We have worked with Blubox Developments on a number of projects and have found them conscientious, diligent and dedicated. Our clients have extremely high expectations and Alex and his team never fail to deliver on all aspects of the business. It is hard to find a company within the construction industry who offer the same commitment and work ethic. Whether they are completing a high value long term build or a smaller project requiring just one trade, the results are always up to standard, on time and within budget".
"We have worked with Blubox Developments on a number of sales and land acquisitions over the last 12 months. They have both a good understanding of the market and also the vision to see the potential in new developments. Blubox Developments are always prompt and professional at all stages of the process. Would highly recommend."
"Alex has a range of valuable skills. He has technical ability and vision, shows strong leadership, solving rather than creating problems, but most importantly he has the skill to add value which is all very important in the complex construction process."
Blubox Developments and Alex in particular came highly recommended by a friend. We were struggling to get any commitment to a number of outstanding projects on our sixteenth century cottage from a number of local builders. Alex came to our aid and responded quickly and efficiently.

The work was executed quickly, to an excellent standard and more importantly to us-in a very clean and controlled manner. We highly recommend this business.
Blubox Developments have just completed some renovations on our house. Alex was very helpful in the initial planning and decision making for the project. He let us know when to expect members of his team on site, and kept us well informed of the progress. It was also great having him as a single point of contact for any issues or queries we had. The team were all friendly, professional and the work was completed to a high standard.

All in all, very pleased and would recommend Blubox Developments with no reservations.
"Blubox Developments are currently doing our extension and have been great from day 1. They were able to give us a prompt start date which they stuck to and we can't believe how quick the work is being completed. The team are really brilliant, friendly, very trustworthy and so helpful. We would recommend them to anyone."